explorer.land is a map portal to discover, connect to, and communicate impactful nature-based projects.
Select from predefined categories, use the search function, or simply browse the map to discover inspiring restoration and conservation projects to support or connect to.
Consolidate project data and content. Display news and photos on top of interactive, high-resolution maps.
Build interactive, branded map-based presentation profiles showcasing sponsorships and funding of landscape restoration and conservation projects.
Show and link all the different actors and organisations involved in a certain landscape restoration or conservation initiative.
Join the community of organizations communicating their impact in a more transparent, data-driven, yet engaging way.
Explore the map or filter by search categories to find inspiring conservation and restoration projects to engage with or support.
Create

map-based

project

presentations
Simple, beautiful, and transparent. Build a map-based project presentation in minutes without the need of programming. Show all important places, e.g., nurseries, reforestation and conservation areas.
Post

and

share

geo-located

updates
Show your content (e.g., news posts, videos) in context and immerse viewers in the place of impact. Illustrate the benefits for the landscape, the communities, and nature. Celebrate your progress, but also highlight lessons learned. Give the real story.
Embed

maps

into

your

website
Place your map-based project presentations within your website. Use maps to show single projects or your entire project portfolio.
Raise

funding

for

restoration
Be found by a global community of supporters. Provide opportunities to directly support your project via a call-to-action button.
Let your sponsors and investors shine. Build a branded map portal and show how funders contribute to landscape conservation and restoration projects.
Satellite

&

drone

monitoring
Follow the progress in space and time. Integrate high-resolution satellite and drone data. Select from various global data sets to visualize the project impact.
Create maps in minutes without programming. Draw or upload your project locations. Post geolocated news, and show the impact of your project with our SDG module, high-resolution maps, and global data layers.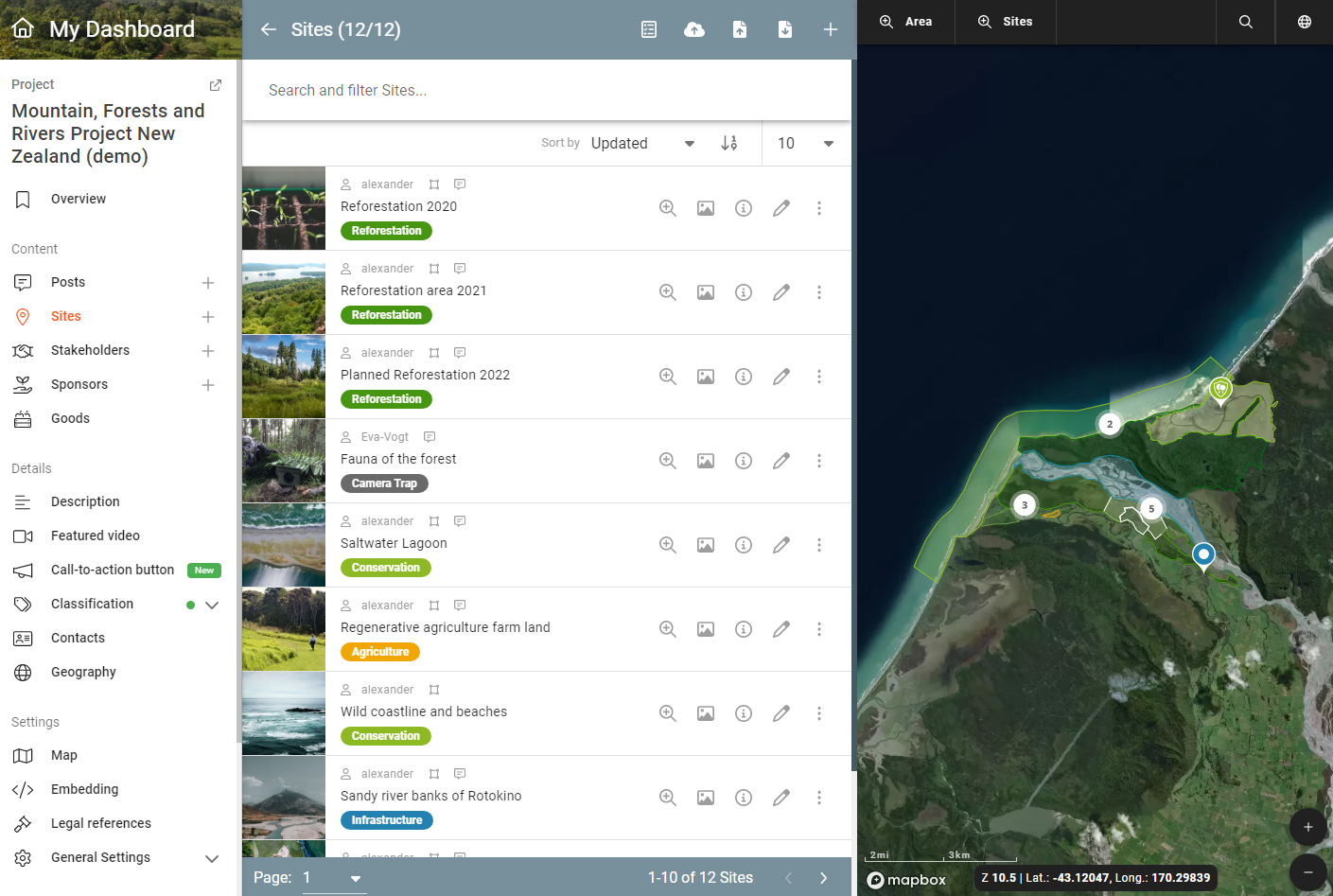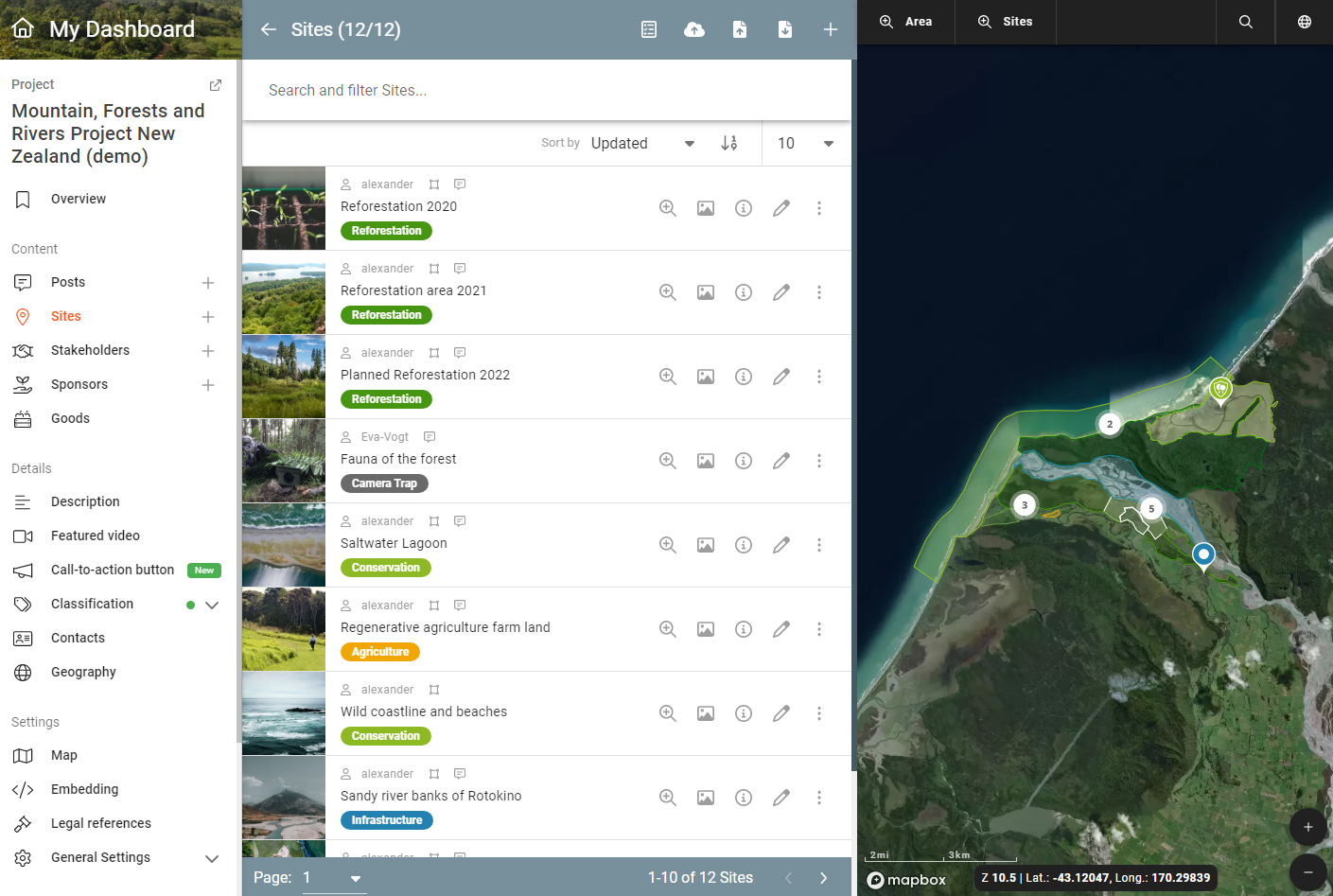 Since engagement in explorer.land, potential clients, and partners are contacting us. It is a wonderful platform with a super-wide network of potential clients and partners. It has helped us a lot in moving forward with our ecosystem restoration activities. Not only because we can prove exactly what we are doing, but it has also put us in contact with various international clients and partners. The platform really works for us.
An important part of my role at Greenpop is to authentically and transparently communicate the impact of our work to our donors. explorer.land has helped me visually communicate our work. It has combined many of the goals we have for project communications into an easy-to-use platform. The service we have received from the explorer.land team has been exceptional.
OpenForests' web map has been a fantastic tool to visualize our reforestation project El Silencio for fundraising.
I really love the mobile UI! I know that challenge from Terrastories, and I think you've done an excellent job approaching it. I played around with the page and map, and as before, experienced that everything is as intuitive as I expect it to be. Really great stuff!
With the multistakeholder module we could bring all our members and their projects onto one map. In fact, the prospects of using the map-based membership platform is more promising than originally anticipated. We're looking forward to develop the tool together with OpenForests to also meet future, additional demands. The official launch of the map with a video and an article published by Mongabay turned out to resonate very well with our membership as well as outside organisations (e.g., the UN Decade on Ecosystem Restoration) and media.
Frequently asked questions
Explorer.land is a map-based platform showcasing restoration and conservation initiatives in a transparent yet engaging way. Restoration and conservation initiatives use explorer.land to document and display their progress via interactive maps and geo-located content (e.g., news posts and photos). Functions such as the call-to-action button facilitate immediate engagement with supporters. Funders, purpose-driven businesses, and buyers of forest goods and services use the platform to find interesting projects to support and collaborate with. The interactive home page, which includes different search possibilities, allows for easy navigation and filtering of projects according to criteria. Thematic global data layers, 3D views, and the integration of high-resolution drone or satellite imagery support transparency, engagement, and immersion in an initiative's context and impact.
For projects:
Manage info & communicate story
Immerse audience with 3D views
Integrate high-resolution geo images
Demonstrate transparency
Gain visibility: potential supporters find you
Promote forest goods & services
For funders & supporters
Find projects with search criteria
Explore transparent projects
Engage directly
Add your organizational profile
Communicate your support
Grow the restoration movement
You find projects by free exploration of the map or by filtering by search categories. Search categories include project type (e.g., agroforestry, conservation, restoration), goods produced (e.g., coffee, timber, herbs), country of project, and participating organizations.
There are various functions to document and monitor project activities:
show the exact geolocation of a project, indicate land use, and integrate attribute data to every location,
exactly place geolocated news posts with a time stamp on top of your project map to describe and document any field activity or observation,
integrate high-resolution drone or satellite imagery and show before and after of e.g. planting activities,
activate Thematic Layers to show the impact via a growing number of global data layers such as deforestation monitoring.
Projects published and listed on explorer.land increase their visibility and are easily found by funders. Visibility can be increased by using the social sharing function and the call-to-action button to guide the prospects to your fundraising materials.
Furthermore, the map-based project presentation serves as exciting and beautiful communication material, that allows for presenting remote projects in-depth during fundraising events or in one-to-one meetings and video calls.